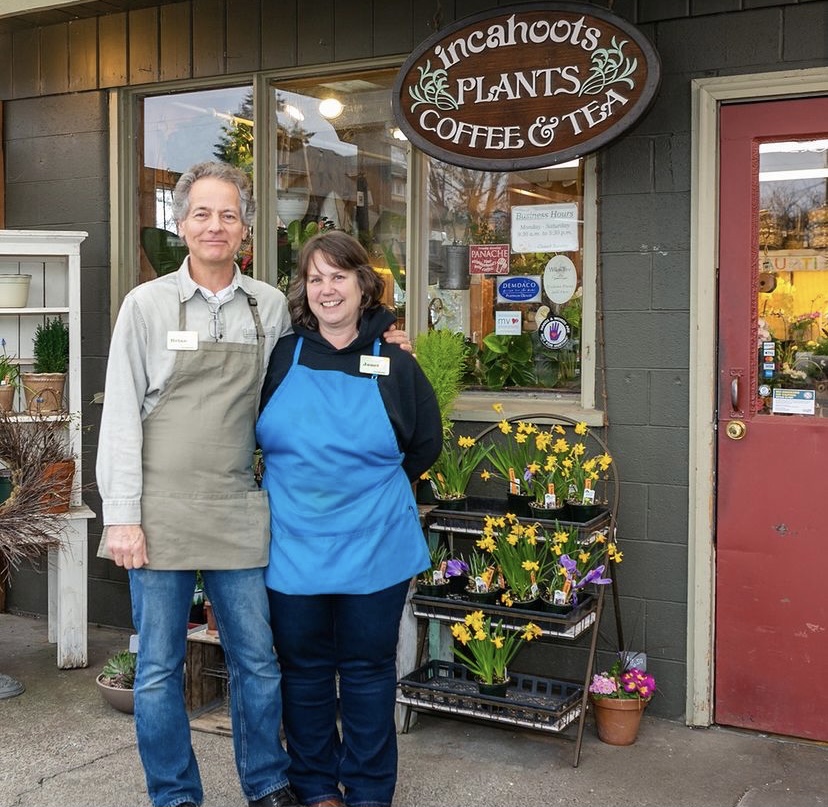 Incahoots began as a small plant store in downtown McMinnville in 1974. The story goes that since there was more than one owner, they were 'in cahoots'. They also sold various accessories and the original name of the business was 'Incahoots with Plants and Paraphernalia." As time passed, the name got shortened, the business changed locations and owners several times and in 1985, Ted and Harriet Gahr, the owners at the time, moved Incahoots to its present location at 905 NE Baker Street.
Janet Gahr and Brian Bailey purchased Incahoots from Janet's parents in 1987. Over the years, from customer suggestions and the whims of the owners, it has added many new lines of merchandise: coffee and tea, gifts, greeting cards, fresh flowers, garden plants and supplies, music, books, imports, and holiday items.
Incahoots is focused on offering quality merchandise at fair prices and to providing prompt and courteous service. Extra effort is made to sell products which are earth friendly and have a positive aspect.
We would be happy to deliver your purchases! Delivery is available to addresses within the city limits of McMinnville, Amity, Carlton, Dayton, Lafayette, and Yamhill. We also offer delivery to McMinnville addresses outside of the city limits. Delivery charges vary depending on location and will be calculated during checkout.
In general, deliveries outside of McMinnville will be made in the afternoon.
Occasionally, due to weather or road conditions, we may not be able to make deliveries safely. In these cases, we will contact you to make other arrangements.
We do not offer delivery to Sheridan, Willamina, Spirit Mountain, Dundee, or Newberg.